Insurance cover is in place for all coaching sessions organised by the Centre (see Saturday Competition). This includes extra sessions that may be organised during the season.
General Training Sessions
These give athletes the skills and techniques needed for Saturday morning competition. Coaching is held every Wednesday afternoon at Bannockburn Oval until the first week in February. All Ku-ring-gai Little Athletes are welcome; there is no extra charge.
The session times are: Wednesday : 4:30pm to 5:30pm
Children train in their own age groups with a Junior Coach. At least three events are covered each week, on a rotational basis. All Junior Coaches are under the supervision of Senior Coaches.
Squad Training Sessions
Special training sessions are held prior to each Championship (Zone, Region, State, State Relays). These are specifically for athletes selected to compete at these events. Dates and times are published in the weekly newsletter as the Championships approach. Athletes selected in track events for the State Relays must attend the compulsory sessions so that baton changing techniques can be taught and running order decided.
Specialised Coaching
The Ku-ring-gai Little Athletics Centre holds special technique training sessions at Bannockburn Oval for U9 and older athletes. To attend the specialised coaching sessions athletes should have a basic level of competency and be capable of behaving with minimal supervision. There is no additional charge for these sessions unless otherwise stated.
Coaches attached to KLAC may also offer additional squad training sessions in particular events. Information on these sessions may be advertised in our Newsletter or on our website. Additional charges per athlete do apply to these sessions. Contact details for some of our Specialist Coaches are shown below. A full list will be made available via our website shortly.




Clayton Kearney (Sprints) 0408 316 849

Leanne Pekjovic (High Jump) 0412 000 008

Alysha Burnett (Long Jump) 0431 858 768

Catherine Miller (Middle Distance) 0404 748 811

Nicole Fagan (Walks)




Coach Profile: Nicole Fagan:
Coaching experience: 2022 Commonwealth Games Team Coach, 2022 Athletics Australia National Event Camp Coach.

Events coached: Race Walking with Ku-ring-gai Little Athletics. Also, Middle Distance, Distance, Cross Country and Steeplechase

Representative Experience: 2008 World Teams Championships, 2012 World Teams Championships, 2011 World University Games, 2016 World University Games (Bronze Medal).

Coach Profile: Cath Miller
I am cu

rrently studying physio therapy at ACU and have been involved in many sports since a kid. I have been heavily involved in athletics from young age competing at little athletics and school carnivals. Over the years I have represented NSW in both athletics and cross country over distances ranging from 800m to 4km as well as competing for Australia in the ISF world cross country championships in 2018.

Although I have had the opportunity to compete at an elite level, the thing I value most about athletics, middle distance in particular is the fun I have had competing and the friends I have made along the way and that is what I hope to instil in the kids I

coach

. Since I started

coach

ing in 2016 it has been my goal to share my passion and knowledge of this sport with the younger generation.

Coach Profile - Clayton Kearney - Sprints
National and State Track Champion (100m/200m Opens/U20). NRL - 3 Premierships, 6 Grand Finals, 1 world Cup Challenge. Former World and Australian Champion - Beach Sprinting. Former 120m World record holder. Raced along side Olympic champions Carl Lewis, Lindford Christie and Ben Johnson. 1 Premiership - National League/A League, worked with current Socceroos coach Graham Arnold.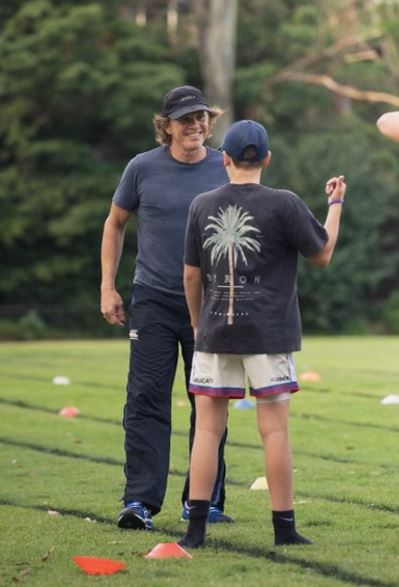 Coaching Courses for Parents
The Australian Track and Field Coaches Association and the Little Athletics Association of NSW regularly hold Orientation to Coaching courses. These courses cover basic instruction on all events.