Registrations for 2023/2024 season are now OPEN.
Please view the age group table below:
Once registered, Please pick up your membership packs, including athlete number and club t shirt, on Wednesday 6th Sept 5.30pm - 6.30pm at Bannockburn Oval. If you have not already provided athlete proof of age, can you please bring it with you when you pick up your pack.

Registration link here: https://regoform.mygameday.app/#/registration-form?orgId=XbFavksU8PKDDNqJ2V&formId=c3oUmaLVcGUzMR8KNC
PLEASE NOTE - U7 GIRLS, U9 GIRLS, HAS ALMOST REACHED CAPACITY. We have established a waiting list. Please go to this link to register for the waiting list - https://regoform.mygameday.app/#/event/registration-form/kuringgaiwaitlist2023/form
UNFORTUNATELY WE HAVE REACHED MAXIMUM CAPACITY IN U7 BOYS, U8 BOYS, U8 GIRLS, U9 BOYS, U10 BOYS, U10 GIRLS, U11 BOYS AND TINY TOTS AND THE WAITING LIST IS NOW CLOSED FOR THIS SEASON.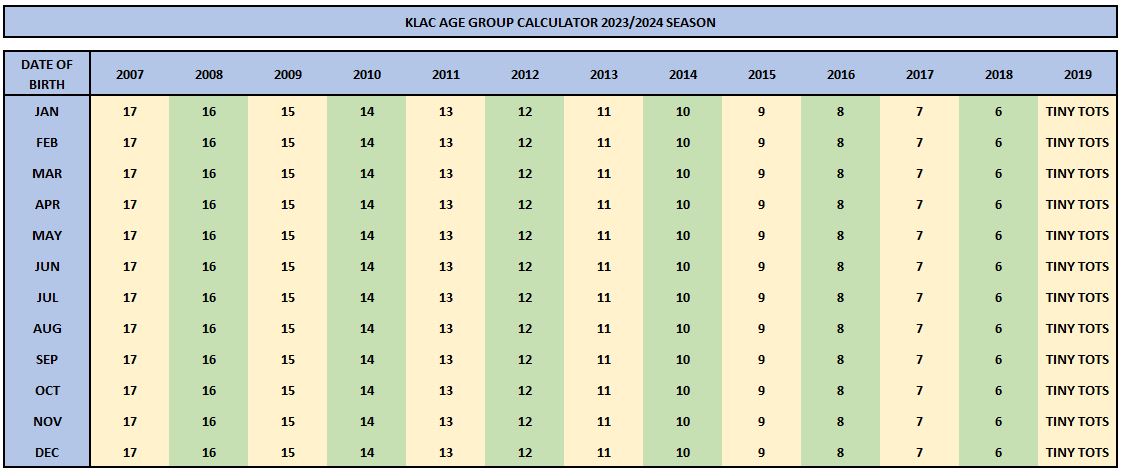 FAQs:
How do I register?
All registrations must be completed online via GameDay. The link to register is here: KLAC Registration. You will need to set up a family login if you haven't used Game Day before.
Please ensure you know which age group to register your child. Age groups are determined by calendar years. To check your child's age group, take a look at the calculation table here: Age Grid 2023/24
How much does it cost to register, and what is included in the fees?
Little Athletics represents amazing value! Our fees for the 2023/24 season cover all Saturday competitions from September to March, as well as all training sessions through the week, including general training on Wednesday afternoon (all ages) and specialist training (U9s and above). Through the season, training sessions are on offer almost every day of the week, covering all track and field disciplines. In addition, registration fees include a competition singlet. Fees for Tiny Tots are $130, all other ages (U6-U17) are $215 for the entire season. We are a not for profit organisation and invest all our fees back into the facilities, equipment and athletes. We are further supported financially by sponsors who ensure we are able to provide high quality athletics opportunities for our members.
Can I use my Active Kids Voucher?
Yes, you can use your Active Kids Voucher for registration fees. Please make sure to apply for them before starting the registration process. Enter your Active Kids voucher PRIOR to payment. They cannot be refunded once you have completed your payment. Note – only one voucher can be used per child, per sport.
What documents are required?
If you are new to Little Athletics, proof of age is required. You can either upload a photo of Birth Certificate or Passport during the registration process or show the Registrar when you pick up your pack.
How do I know the correct age group to register my child in?
Little Athletics age groups are based on the age of the athlete at the end of December. Please check here: Age Grid 2023/24. Note that at KLAC, to join Tiny Tots your child must be 4, or turning 4 by the end of 2023.
Can we trial before we register?
Little athletes are welcome to enjoy a two-week free trial at our competition meets commencing in September. Trial membership is only open to athletes who have not previously been a member of a Little Athletics Club. If the athlete wishes to compete on a subsequent week, he or she must join the Centre and become a registered and paid-up athlete. If you would like to register to trial, please email the registrar to be placed on the trial list, and to receive further instructions. There is no need to complete the online registration at this point. Please note that registered athletes will be given priority over trialists if our registration volumes are significant, which is often the case in younger age groups.
When does competition start, and how do we get ready?
Our first competition will be Saturday 9th September. Competition numbers and age patches will be distributed in advance of this date. We will let you know how and when to pick these up.
What do I do if I have other questions?
Please contact our Registrar, Katie Sumpton, via email - registrar@klac.org.au
For questions relating to registration, please email registrar@klac.org.au
For general enquiries please email info@klac.org.au
Please see below for LANSW Privacy Policy