Registration Update:
Thank you so very much for your interest in Ku-Ring-Gai Little Athletics. This year the club has experienced an unprecedented interest in little athletics. In consideration of the management of athletes, the club has reluctantly needed to close registrations for the current season at this stage. If you wish to be placed on a wait list if an opportunity arises this season, please register your interest with the club registrar at info@klac.org.au."
FAQ's
Q: When will the season start? A: the 2022/2023 season will start on the 10th September 2022.
Q:How much does it cost to register? A: $198, which includes sub club Teeshirt/Singlet. You can also buy an additional Track & Field Training Teeshirt for $10 as an optional extra.
Q: When will mid week training start? A: Mid week training will start W/C 12th September 2022. Schedule will be available in August.
Q: When / where is Little Athletics: A: Ku-ring-gai competition is held at Bannockburn Oval on Saturday mornings. We commence at 8.30am
Q: Should I come even if I am running late? A: Yes please. The objective of Little A's is participation and involvement. So there is no pressure on you and your child if you arrive late or have to leave early. Being active and involved is what we are about.
Q: Does the registration include a sub-club shirt? A: Yes, the sub-club Teeshirt or Singlet is included with registration pack.
Q: Is Tiny Tots available at Ku-Ring-Gai? A: Yes, we are running a Tiny Tots program this season - age 4yrs.
More FAQ's here: https://mcusercontent.com/18f53996149a0bf8c1f856679/files/12477edd-25fe-6c65-4bed-ee5886bffffd/Registration_Document_.pdf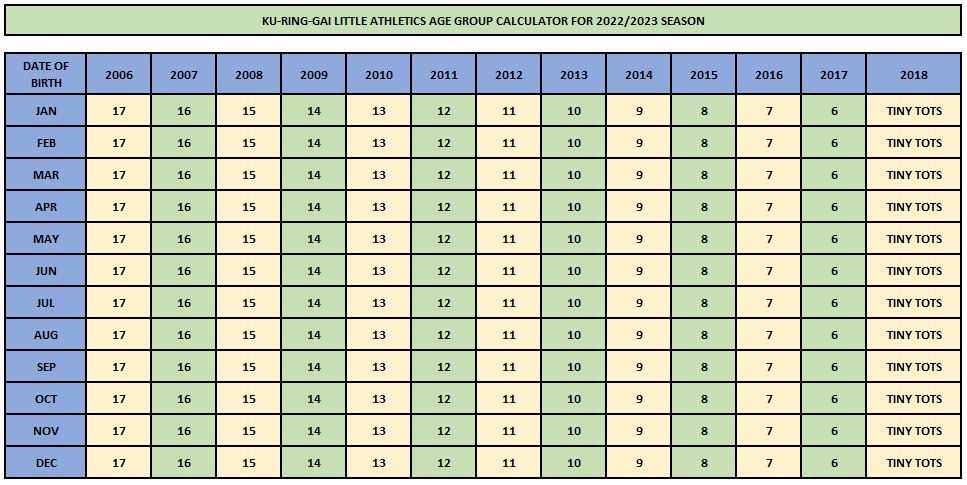 For questions relating to registration, please email registrar@klac.org.au or visit https://lansw.com.au/
Please see below for LANSW Privacy Policy