Information for Schools
KLAC can help your school run your Athletics Carnival: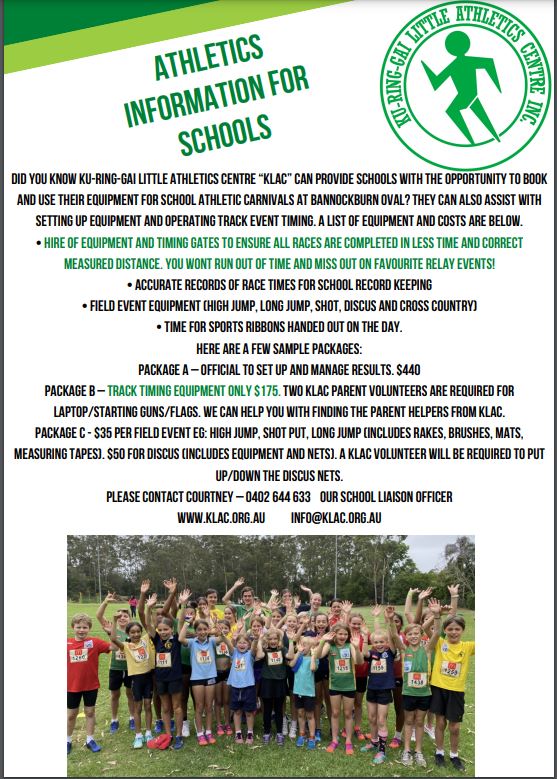 Cross Country Season
Cross Country Continues every Sunday
The KLAC Cross Country season starts on Sunday, 8th May 2022 and will be held every Sunday until 24th July 2021, with the exception of the day of the LANSW Cross Country Championships.
On the first day, events will start at 3.30pm at Bannockburn Oval, Pymble. Following weeks events will start at 3.15pm.
Registrations: On the first day, Athletes can register from 2.30pm.
Course Orientation for runners and parents will start at 3.00pm
Winter Season Fee: KLAC 2021/2022 registered Athletes $10 by cash or card.
Unregistered new KLAC athletes must first register via the LANSW website and pay the online registration fee of $25 then a further $10 by cash or card to KLAC at Bannockburn oval.
Athletes registered at other centres can pay $10 by cash or card.
Other unregistered athletes must first register through their home centre.
Distances:
U6 - 525 metres
U7 and U8 - 825 metres
U9 and U10 - 1,687 metres
U11 to U14 - 2,280 metres
U15, U17 and Open - 2,280metres
Parents may participate in the Open event at their own risk.
An informal event for younger siblings will be held at the parents' risk.
More InformationIs available from: Jason McIntosh on 0419 747 320
Where you / your child would prefer to have a trial before committing, not a problem. Come down to Bannockburn Oval and sign-up as a trialist
Registration link as follows:
https://regoform.mygameday.app/#/XbFavksU8PKDDNqJ2V/xMGaAp3euRMbVmaLdt
For any questions relating to registration, please email registrar@klac.org.au
If you would like to speak to someone please contact our President on 0414 541 867
Please follow our Facebook Page for regular updates and information:
Ku-ring-gai Little A's
https://www.facebook.com/Kuringgailittleas/
NEW GOLD SPONSOR
A warm welcome to Mathnasium, Gordon, our new Gold Sponsor. Thank you for the support.
https://www.mathnasium.com.au/stores/nsw/gordon