What is it?
Ku-ring-gai Little Athletics is a modified athletics competition for children aged from 4 to 16 years. The emphasis is on "Family, Fun & Fitness".
When and where?
We compete every Saturday morning at Bannockburn Oval, Bannockburn Rd, Pymble. Competition starts with a warm-up for all athletes at 8:30-8:45am and continues until approximately 11am. We offer a variety of coaching, from a general coaching session on Wednesday afternoons to event-specific coaching for older athletes on almost every day of the week. Our summer competition starts on in September and continues until March, with a few weeks off over Christmas.
What about parent involvement?
Our competition is run by the parents of the athletes. That means that all parents are rostered on to help at least one week in two. More experienced officials will show you what to do.
What events do the children do?
All athletes compete in various running races, jumps and throws events. The distances, types of implements etc are modified and change as the athletes become older. For example, our youngest athletes (Under 6's) compete in the 50m, 70m, 100m, 200m, 300m Pack Start, Long Jump, Shot Put and Discus. By the time they reach Under 13, the shortest races (50m & 70m) are deleted, and the 400m, 800m, 1500m & 3000m are added, along with Racewalking, High Jump, Triple Jump, Hurdles and Javelin.
Do you have a uniform?
All athletes wear a different colour T-shirt, depending on which Club they have joined (see "How do we join?" below). We provide a registration number, age patch and sponsor's logo to be sewn on the T-shirt. Black shorts and suitable running shoes complete the picture; only Under 13 and older athletes are allowed to wear spikes.
How does the Saturday competition work?
We have a 6-week cycle of events for each age group. As athletes in the group finish their first event for the day, they move on to the next event, until they have done all 6 events for the day. Though it is not compulsory for every child to compete in every event, we encourage them to do so.
How do we join?
Ku-ring-gai Little A's consists of 6 Clubs all competing together every Saturday morning. You join whichever Club you like – they are loosely based on the suburbs in our area: Pymble (Yellow), Gordon(Navy), Wahroonga (Red), St Ives (Green), West Pymble (Pale Blue) & Turramurra (White).
For the 2022/2023 season all Ku-ring-gai Centre registrations are to be initiated through the Little Athletics NSW web site –http://www.lansw.com.au/ which includes a registration section. Forms MUST be completed by a parent or guardian, rather than the athlete. Complete all details as fully as possible. The procedure includes internet payment of the registration fee. This year the Ku-ring-gai and State fees are $198 for each little athlete regardless of the number of little athletes registering from a single family.
Once you have completed registration please save a copy of the receipt and and other material as requested by the registration program.
To complete formalities and receive your registration numbers and other patches please present all the documentation, including your receipt and proof of age for all members as below:-
If you can't come to our Registration Day you can also bring your registration receipt etc. on any Saturday morning at Bannockburn Oval from 10th September.
Need more information? E-mail: info@klac.org.au Any child from 4 to 16 (as at 01/01/23) can join Ku-ring-gai Little Athletics.
Want to work out what age group you are? See below: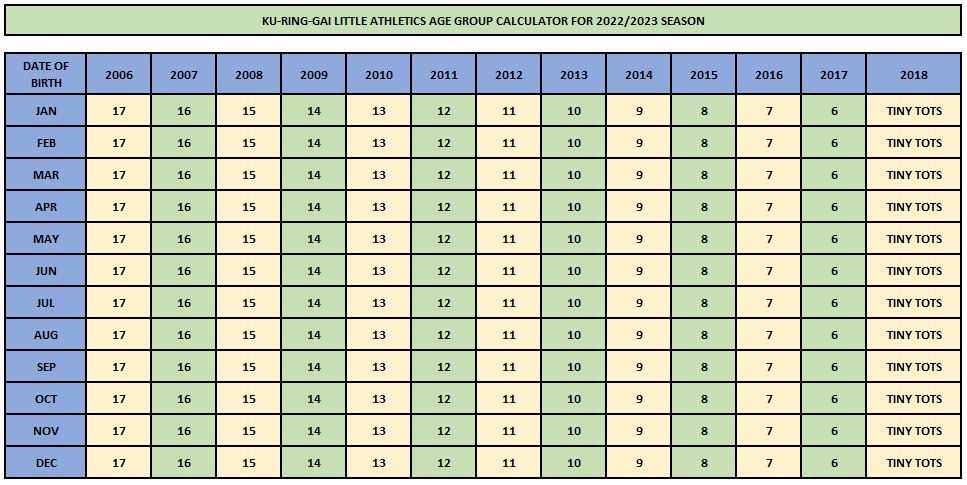 Need more information?
E-mail: info@klac.org.au